360° Freedom
with our ring lights
Our round lights set glowing accents in your room concept. The businesslike light, circular shape of the luminaires, the richness decor options and the possibility of combining different diameters creates a convincing aesthetic and is also perfectly include into the existing interior design.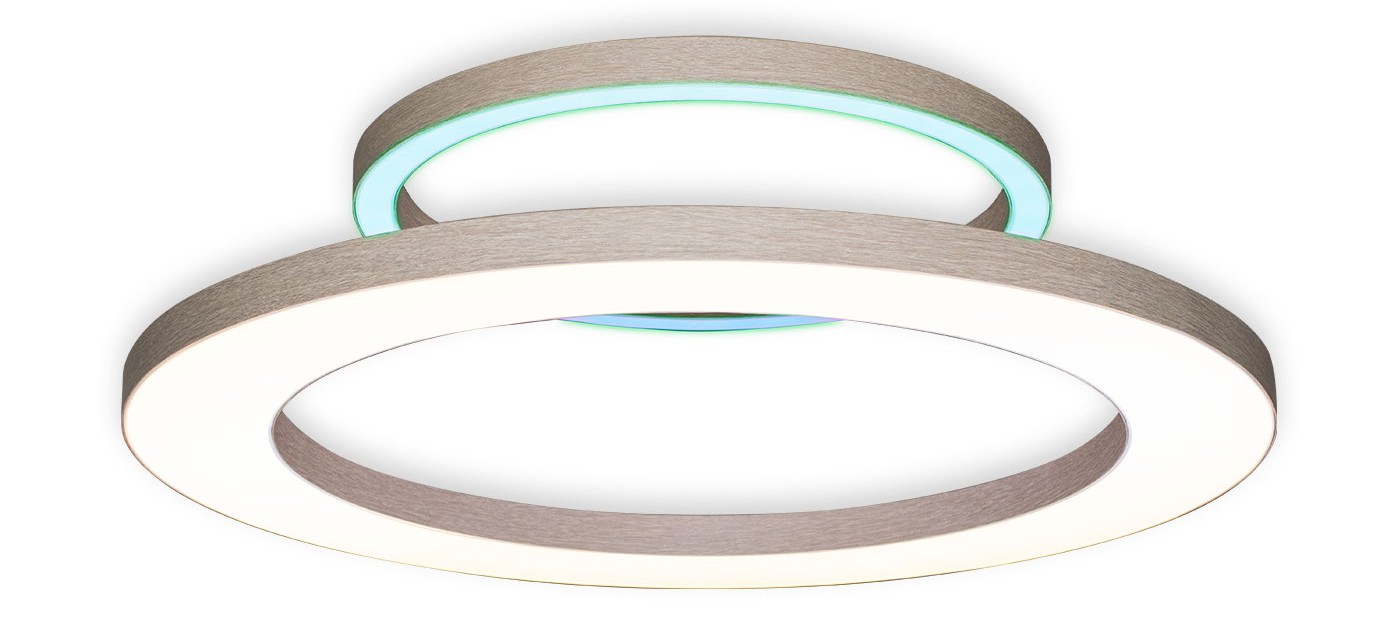 A round thing
Our ring lights open up a variety of room design options thanks to the wide range of possible shapes and colors. Depending on your room concept, you determine the diameter, light color and color of your individual luminaire.
The ring lights allow - depending on the individual equipment - the combination of direct and indirect light. Here, in addition to the light exit area on the bottom, LED modules on the top of the ring are used. This allows additional variance of the lighting effect, suitable for your purpose.
Technical specs
| | |
| --- | --- |
| Minimum size | Ø 1.000 mm |
| Maximum size | Ø 8.000 mm (from Ø 2.300 mm multipiece) |
| Light exit area / ring width | 100 mm |
| Frame height | 80 mm |
| Frame colors | Decorative foil or paint according to RAL |
| Light color | individual configuration, possibly warm white, cool white, tunable white, RGB, RGB + W, HIGH CRI (CRI97) in 2,100 K, 2,700 K, 4,000 K and 6,800 K. |
| Shine directly / indirectly | optional and variable determinable |
| Capacity | depending on size and technical equipment |
| Controll / dimming | CASAMBI, DALI, DMX, 0-10 V |
| Cover of diffusing surface | Textil Dynajet L110 B1 up to Ø 2.300 mm seamless |
Unusual decors
Wood natural, metallic timeless or plain - with high-quality decors from 3M® or RAL painting, the ring light always adapts perfectly to the color concept of your location. 3M®'s DI-NOC film range offers an incredible variety of decors, making our OribalLight your own personal lamp. The portfolio includes numerous wood, metal and textile decors but also leather, carbon and many other impressive options.
Diverse controllable
Thanks to the possibility of dimming or light control via CASAMBI or DALI you also always achieved the desired lighting mood. Depending on the customer's requirements, our ring lights can be equipped with warm white, cool white or "tunable white" LED modules. The latter allow the mixture of cold and warm white light color and are therefore particularly well suited for daytime variable illumination. On request, we also equip your luminaire with RGB LED modules, which allow multi-colored accents and, in particular, can create exciting lighting scenes in addition to warm or cool white lights.